Honeyhill Kennels has been raising German Shepherds for over forty years. Our goal is to raise healthy, happy, very sound, beautiful dogs . Dogs that are good for pet companions and for show.
We promote the White German Shepherd Dog as a color variety of the German Shepherd Dog. Our dogs are registered with AKC as German Shepherd Dogs and with UKC as German Shepherd Dogs.
UKC now allows the White Shepherd Dog to be shown as a separate and different breed. It can not go back to being a German Shepherd. But we can choose to remain a German Shepherd and show in the conformation ring with the black and tan dogs and can never change to a white shepherd. There has been a split that is permanent.
My dogs DNA is registered and they have been xrayed, and most of them are OFA certified.
We try to have one litter of puppies a year. The puppies are sold with a written health guarantee and hips are guaranteed , they have a written pedigree, sales contract, health record, first shot, and AKC litter registration application. They usually go to their new homes about eight weeks of age. At that time they are leash broke, crate trained, almost house broke, have been temperament tested, and evaluated for show qualities potential. I include a take back clause in my contract. It says if you can't keep your dog or find it a home that you give it back to me.It must not go to a dog pound or rescue shelter. I have enough dogs and really don't need your dog, but I do not want to contribute to the dog over population problem in the rescue shelters, and will take the dog back, retrain it and find it a new home.
The puppies live in the house, but visit the back yard, the kennel, and go for walks around the three acres, past the pond and the wild places. They go for rides in the car, visit the vet and friends. All fun experiences.
I require that all new puppy owners go with their puppy to an obedience and socializing class. This is a fun experience, and the owner learns acceptable ways to master the role of alpha . All types of training have merit, there are probably 20 different techniques for each segment of a training procedure, and they all work in certain circumstances, the only thing I absolutely object to is the "no sniff" theory. I run to the nearest exit when I hear an instructor(?) say those dreaded words. * I believe in using praise, treats and correction when training dogs. My dogs are soft, so usually the word "no" is enough correction, but occasionally a short leash correction is used, and of course it is followed by a lot of petting and encouragement.
My dogs are fed dry dog food, but I have the crock pot always full of vegetable soup and add it to their food, and the pups get raw meaty bones ( like chicken backs,or rib bones, or pork neck bones) every day of the week (and the big dogs at least a couple of times a week.) . And they get yogurt and cottage cheese plus a little good supplement (right now i am using clovite) . I believe that natural (not the "natural" the corporations spout) works best.
* The no sniff theory: the instructor tells you to keep your dog close to you and not let the dog sniff of other dogs or people. This is like you going into the class and must not say a word to anyone. You have fun when you talk and socialize with others, and your dog uses his nose in much the same way, and must socialize to gain confidence and enjoy his class. He needs to be greeted by others and petted, given a treat and talked to. If he is restricted all the time, he may develop a fear of others.
______________________
White German Shepherds were one of the original colors of the German Shepherd. There are 12 color choices listed on the AKC registration application. The popular black and tan color was first seen about 1909, about ten years after the beginning of the breed. the dominant color was sable. ( I.ve read that Horand was a dingy yellow and grey color}, the color choices on the registration are - black, blk&cream, blk&red, blk&silver, blk&tan, blue,grey,liver,sable,white,bi, and there is a panda (blk&white)not listed.
************************
Max von Stephanitz, the founder and first president of the German Shepherd Dog Club (SV 1899) ,describes Horand, the first registered German Shepherd, as a large dog, 24.5 inches to the back with powerful bones , beautiful lines and a noble head; clean and sinewy in build, the whole dog was one live wire. he had an irrepressible zest for living, obedient to his master, but when left alone, the maddest rascal, the wildest ruffian and an incorrigible provoker of strife.never idle, always on the go, friendly to people, but no cringer,crazy about children and always in love.
___________________________________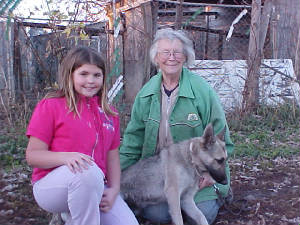 Summer and Myrna with Annie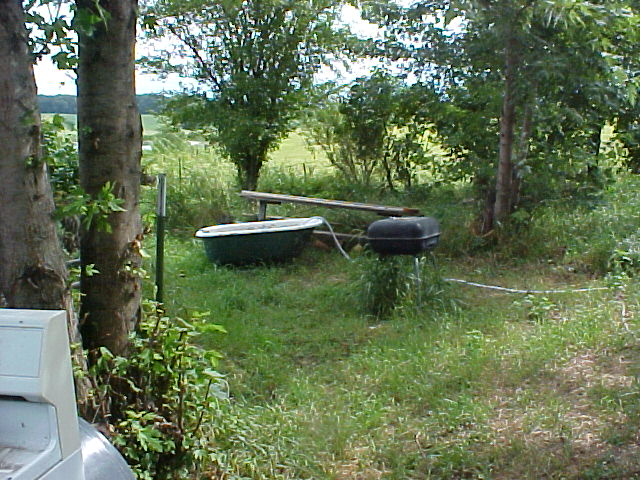 August 2014 - a new acquisition
**********************************************